Serving: 4 people

Prep Time: 15-20 minutes
Cook time: 1 hour - 1 1/2 hours
** Cooking time with vary depending on how hot your stove top is. Use own discretion.
INGREDIENTS:
2 Cups of Water (use own discretion based on if you want a lot of sauce or little sauce.)
4 Eggs
1 Cup Chopped Onion
2 Teaspoons of Minced Garlic
1.5 Teaspoons of Minced Ginger Root
2 Cups of Tomatoes (fresh or canned with juice)
3 Cups of Diced Potatoes (small bits)
4 Tablespoons of Olive Oil
3 Teaspoons of Turmeric
3 Teaspoons of Chili Powder
1.5 Teaspoons of Ground Coriander
1 Teaspoon of Ground Cayenne Pepper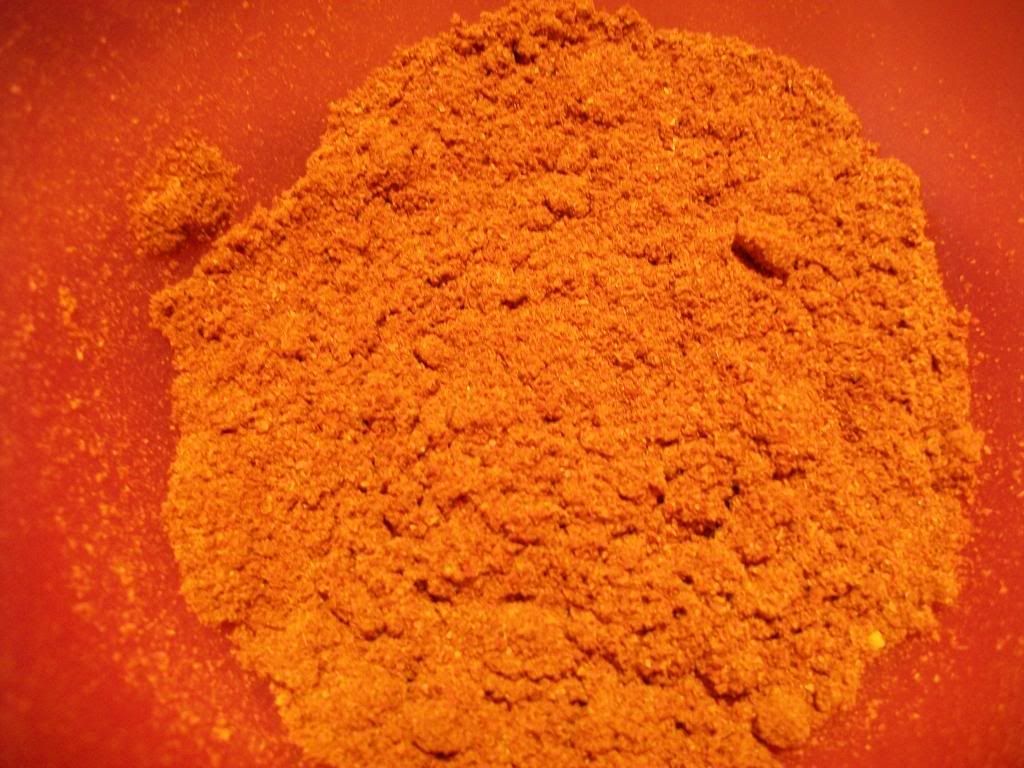 TO START:
1.) Gather all of your spices.

MIX:
- 2 parts Turmeric
- 2 parts Chili Powder
- 1 part Cumin
- 1 part Coriander
- 1/2 part Cayenne
- 1 pinch of sea salt
- Put in air tight container and shake it until thoroughly mixed (30 seconds)
** I say "parts" because I make different amounts each time. Sometimes I use cups to measure, sometimes tablespoons. It all depends on how much curry spice mix you want to make. (For example: 2 Tablespoons of Turmeric & Chili Powder to 1 Tablespoon Cumin, Coriander to 1/2 Tablespoon of Cayenne Pepper.)
2.) Boil eggs in pot for 15-20 minutes on medium to high temperature, or until completely "hard boiled"
- Shell shock the eggs by pouring out hot water and running cold water over them immediately
- Keep eggs in cold water for about 15 minutes (change water regularly)
- Return eggs to fridge to continue cooling
3.) While eggs are cooling in fridge, prep your vegetables.
- Mince/Chop onion, garlic, ginger, potatoes and whatever vegetables you want in your curry
- Set aside onion, garlic, and ginger in one bowl
- Set aside potatoes and any similar vegetable (carrot, yam, rutabaga, turnip, etc) in one bowl
- Set aside soft vegetables such as green onion, peppers, celery, peas, etc in one bowl
- Put tomatoes in a bowl alone
4.) Now that vegetables are done being prepped, take the eggs out of the fridge.
- Peels the eggs from the shells, rinse off eggs

.
- Put 3 slits in the eggs starting from top to bottom and getting to the yolk.
** The slits allow for flavour to get into the egg - just be careful not to slit to deep otherwise the egg will fall apart.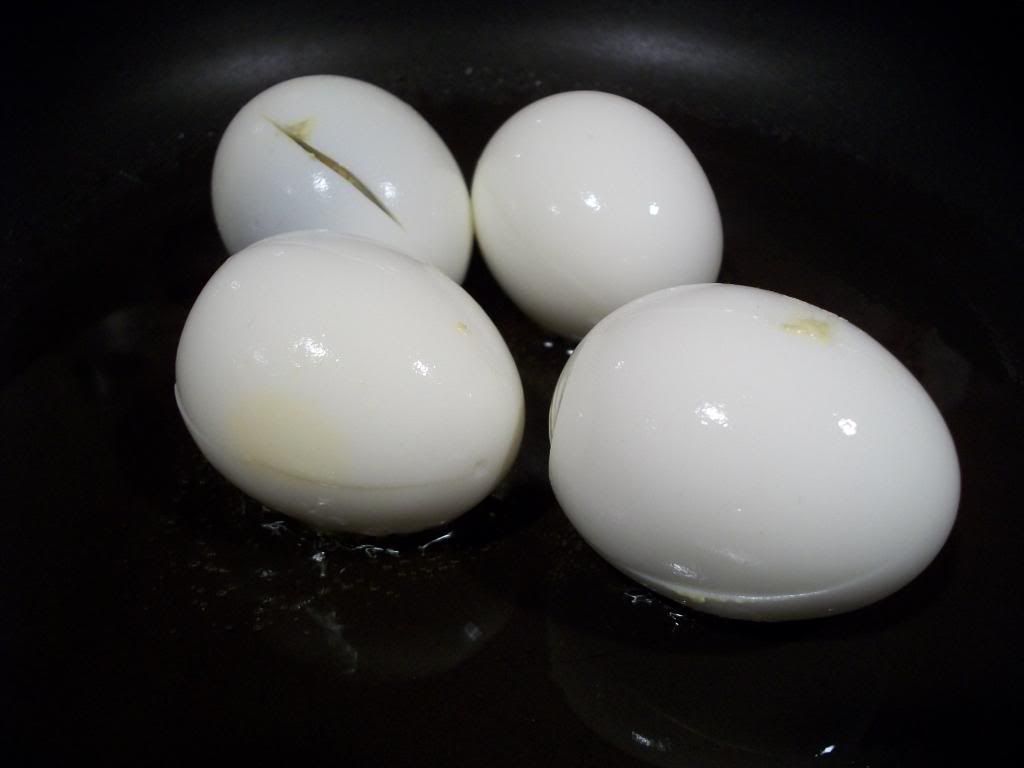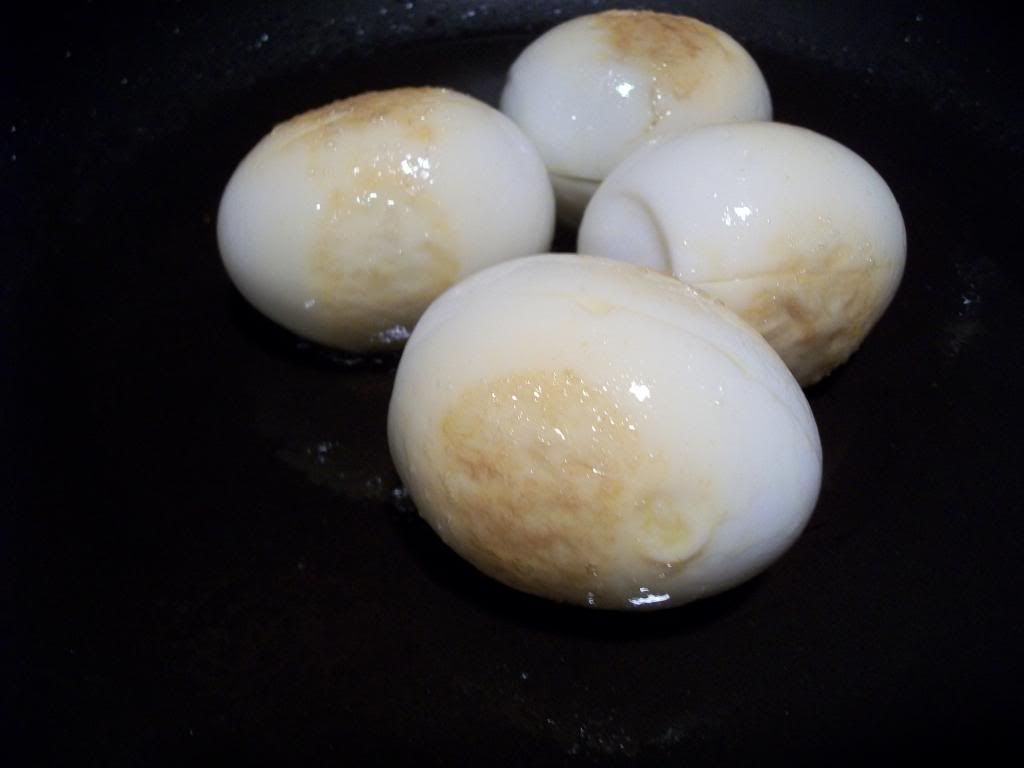 5.) Heat oil in frying pan/pot on med-high heat. To test to see if the pan is right temperature, throw a piece of onion in. If it starts to make the "fry sound" and you can see it bubbling around it, it's ready. But be careful, you don't want oil splatter - it hurts

!
- When pan is ready, put eggs in and fry until golden brown.
- Take eggs out and put in in bowl.
- Toss the onion, garlic and ginger into the frying pan. Saute until brown

.
- Add potato and like vegetables (carrot, yam, turnip, rutabaga) and stir

.
- Turn heat down to about medium heat

.
- Add spices and stir to thoroughly cover the vegetables. (WARNING: Remove pan from heat if spices start to look like they are sticking because if they burn, it will ruin entire dish

)
- After vegetables are coated & spices start to cook, add tomatoes
- Let sauce simmer on low-med heat for about 45 minutes or until potatoes and similar vegetables are nearly done.
- Throw in rest of vegetables (peppers, green onion, etc)
- Toss in eggs finally and simmer for another 15 minutes or until rest of vegetables are cooked through.
Serve as a main with a side of Red Lentil Dal, Naan, Roti, or over a bed of rice! ENJOY!